The demand for big data, analytics, and data science professionals is on a steady rise globally, and why shouldn't it be? Its relevance is increasing day by day in just about every sector. Analytics is now one of the most sought after professions in India due to piling data along with a surge in fields such as AI, machine learning and data science There is a huge demand for highly skilled professionals and companies are constantly looking for people who can fill the gap. This brings us to our yearly study around the scenario of analytics jobs in the country. Titled "Analytics and Data Science India Jobs Study 2017″, it taps into this very aspect and evaluates the scenario of analytics and data science hiring across various industries such as retail, telecom, e-commerce etc., across various cities, the requirements in terms of experience & education, hiring trends and much more. This year, we teamed up with Analytics India Magazine to present a complete picture of the analytics and data science job scenario in India, in the form of eye-opening statistics and visuals.
Top trends in analytics jobs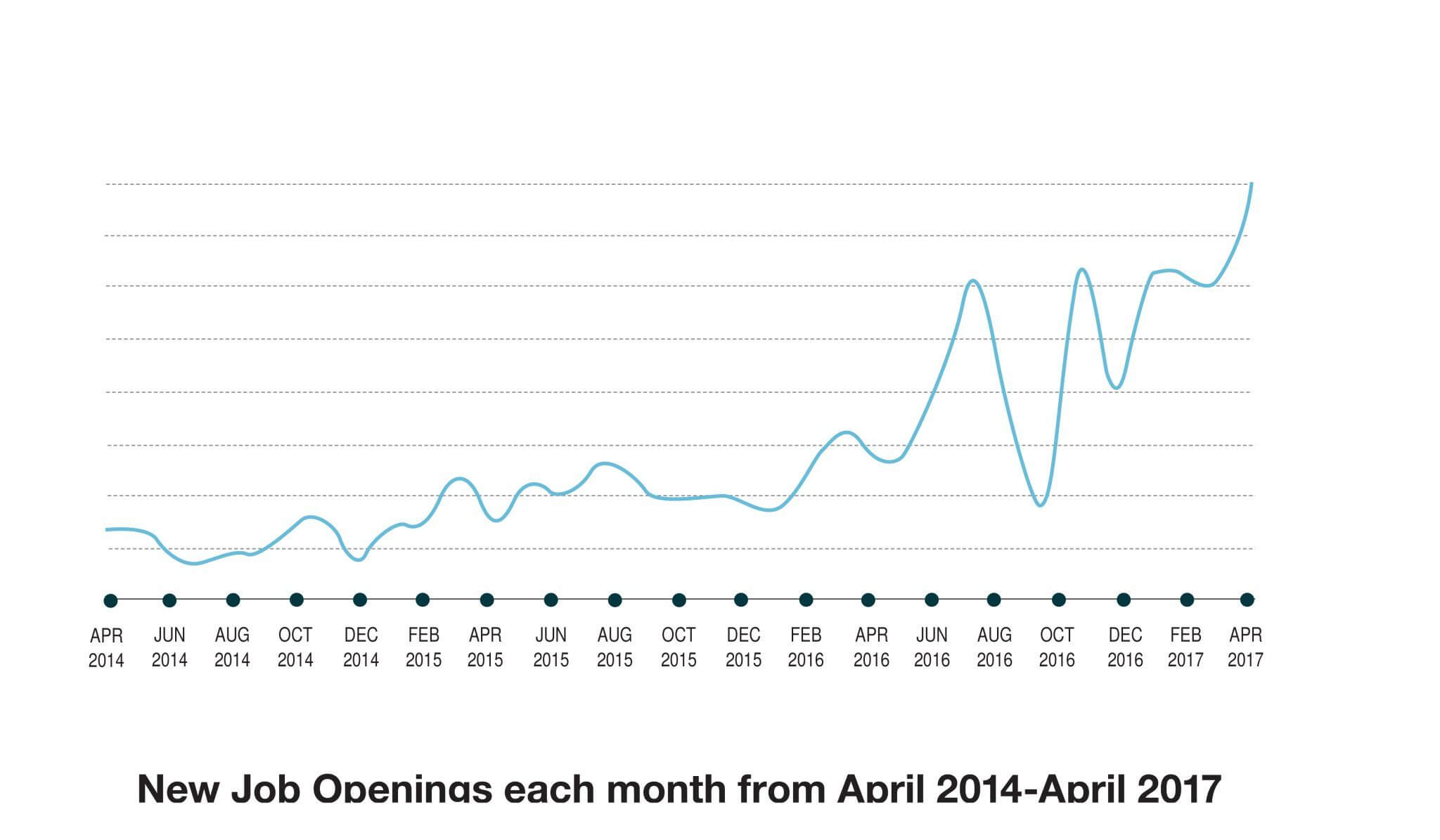 The number of analytics jobs almost doubled from April 2016 to April 2017.
This is in sharp contrast to the percentage increase in analytics job inventory a year back. The number of analytics jobs increased by 52%from April 2015 to April 2016, and by 40% from April 2014 to April 2015.
While, it is difficult to ascertain the exact number of analytics jobs openings; by our estimates, close to 50,000positions related to analytics are currently available to be filled in India.
Compared to worldwide estimates, India contributes just 12%of open jobs opening currently. The no. of jobs in India are likely to increase much faster vs. the rest of the world as more analytics projects get outsourced to India due to lack of skills across the world.
10 leading organizations with the most number of analytics opening this year are – Amazon, Citi, HCL, Goldman Sachs, IBM, JPMorgan Chase, Accenture, KPMG, E&Y & Capgemini.
Analytics jobs by cities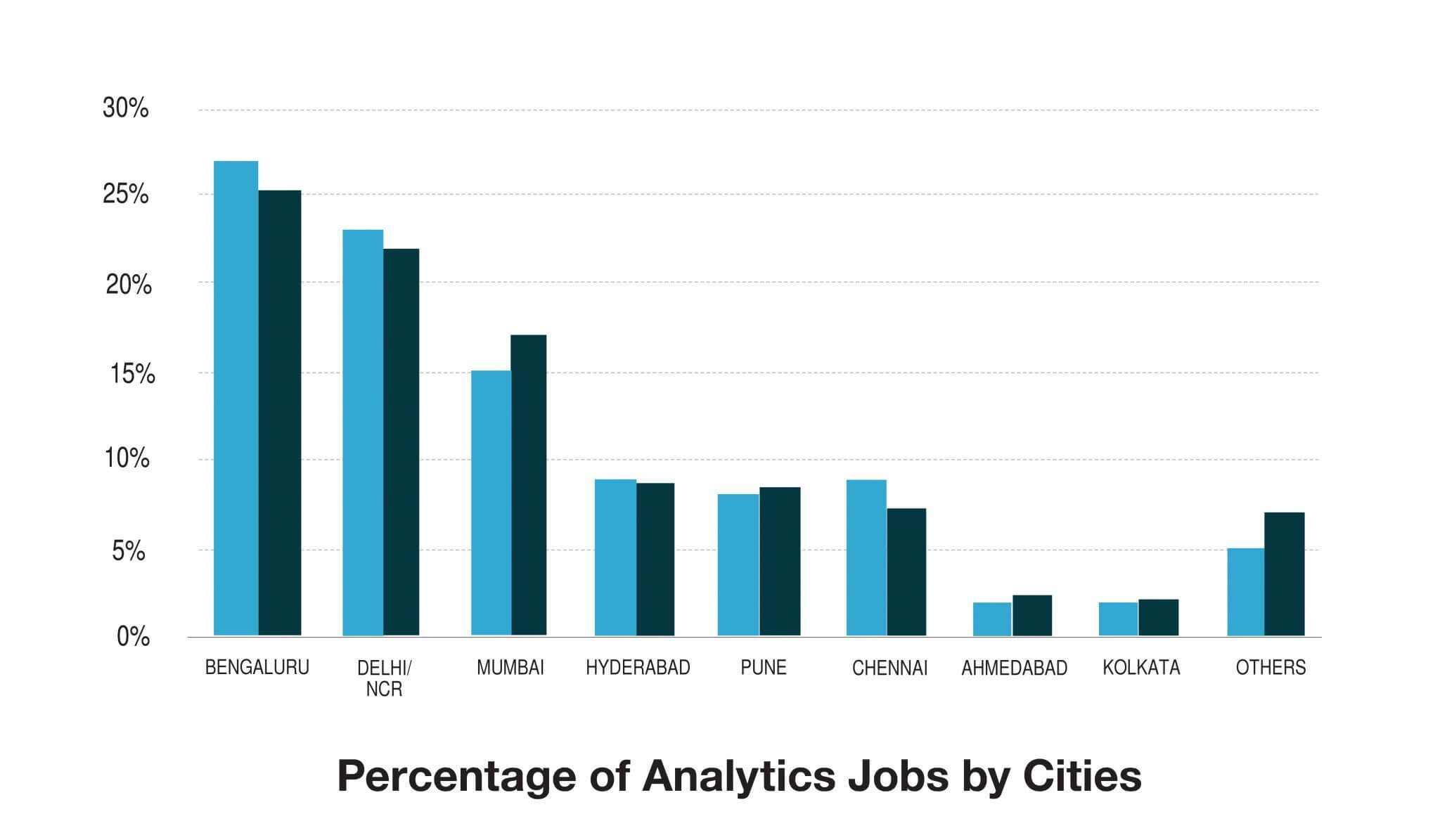 In terms of cities, Bengaluru accounts for around 25% of analytics jobs in India. This is down from 27% a year earlier.
Delhi/ NCR comes second contributing 22%analytics jobs in India, down slightly from 23% a year ago.
Approximately 17%of analytics jobs are from Mumbai. This is up from 15% from last year.
The contribution of tier-B cities in analytics jobs have increased this year, from 5% in 2016 to 7% this year due to the increased number of start-ups operating in tier 2 cities.
Analytics jobs by industry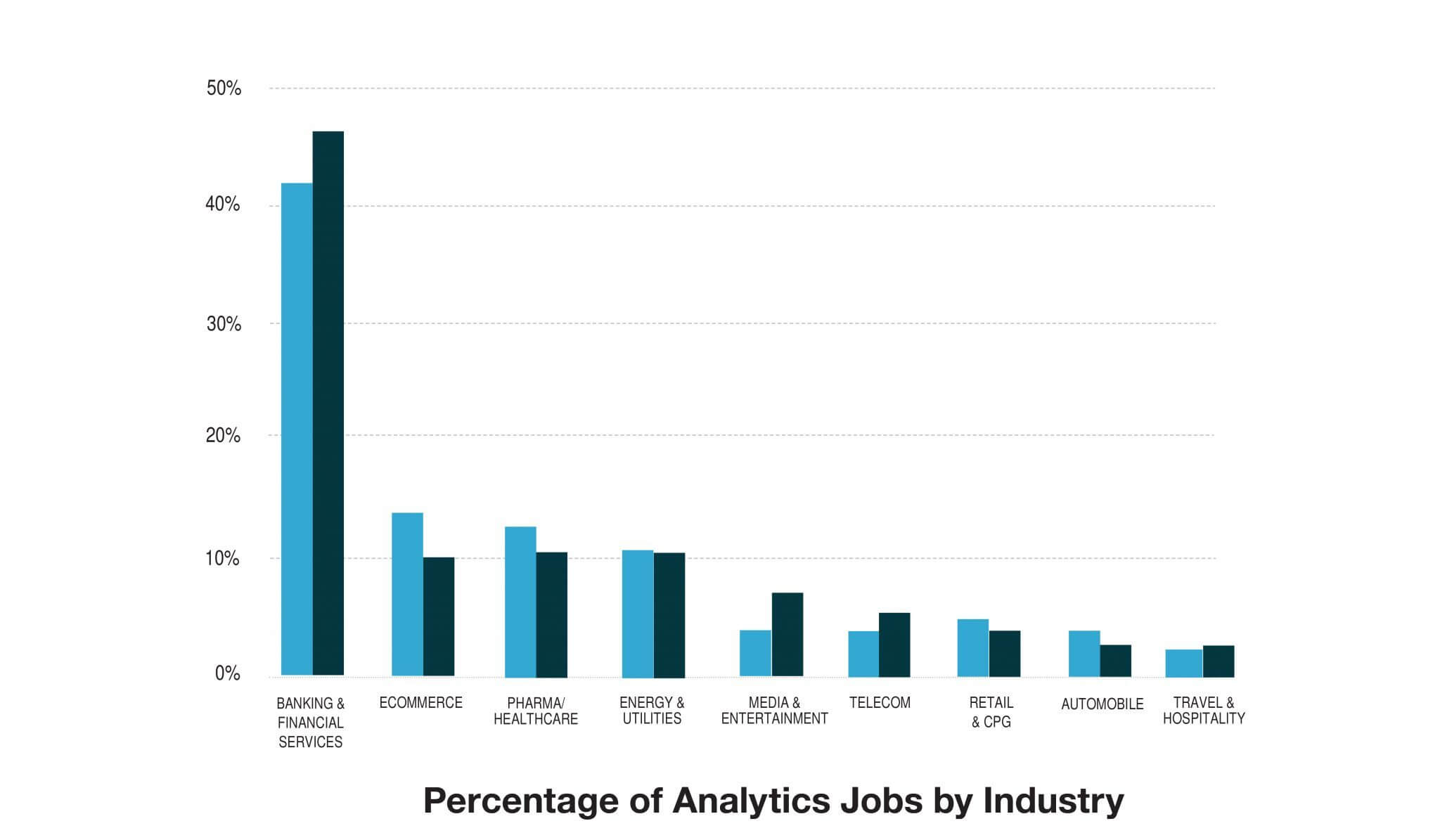 Banking & Financial sector continues to be the biggest influencer in Analytics job market. 46% of all jobs posted on analytics were from the banking sector. This is an increase from 42%a year ago.
E-commerce have dipped in terms of analytics jobs this year. Just 10%of analytics jobs were in ecommerce sector as opposed to 14% a year ago.
Media/ entertainment sector seems to have an uptick in analytics jobs this year, contributing to 7% of all analytics jobs as opposed to 4% a year ago. The sector has been traditionally a late adopter of analytics.
Education requirement by analytics jobs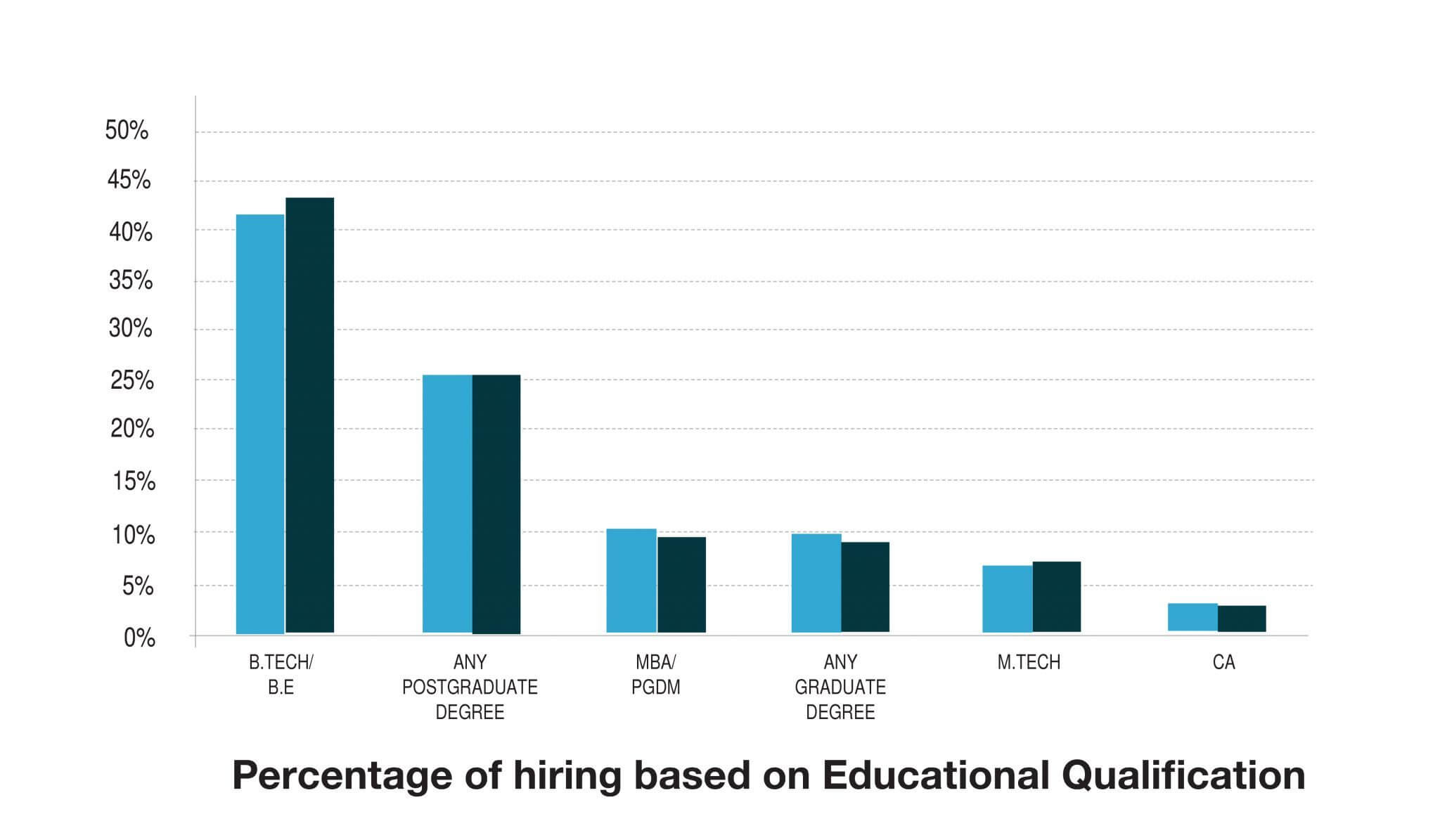 Education requirements for analytics recruiters have remained the same since last year. Almost42% of analytics job openings are looking for a B.E./ B.tech degree in the incumbent.
26%analytics job openings are looking for a postgraduate degree and 10% are looking for an MBA or PGDM.
So, overall, 80%of all employers are looking to hire analytics professionals with either an engineering degree or a postgraduate degree.
9%analytics jobs are fine with any graduate degree.
Job openings looking for a CA account for merely 3%.
Experience requirement by analytics jobs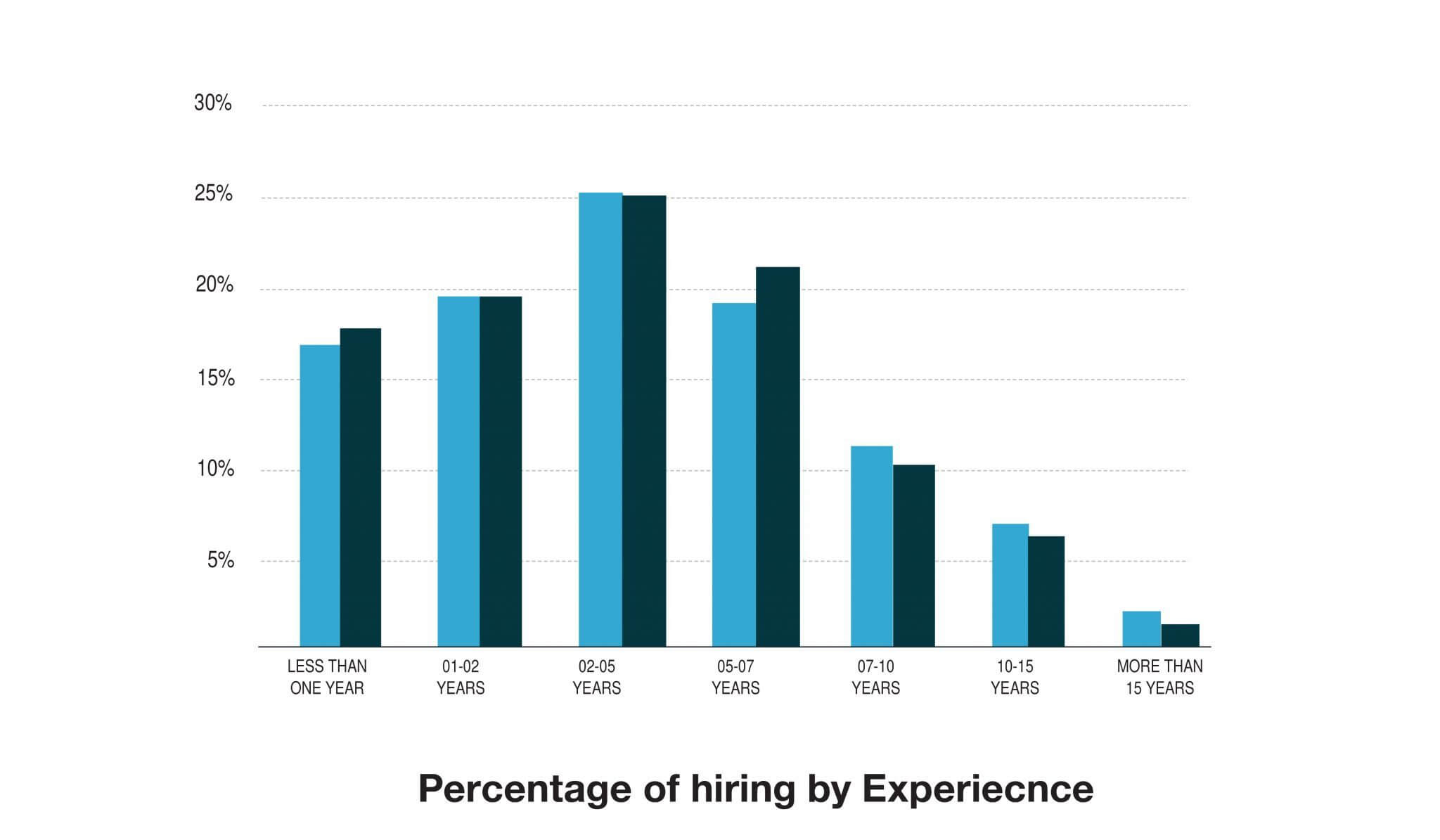 Around61% of analytics requirements are looking for candidates with less than 5 years experience.
17%analytics jobs are for freshers.
39% analytics job openings are for professionals with more than 5 years job experience.
There has been a significant increase in the requirement for senior analytics professionals last year. Job requirements for professionals more than 7 years experience increased from 17% of all analytics jobs in 2016 to 20% this year.
Analytics jobs in cities by experience level
2-5 years of experience continues to be the most demanded experience level across all cities, averaging at 24% of job openings.
This is followed by 5-7 years of experience level for most cities, except Chennai where analytics recruiter are looking for mostly 1-2 years experience after 2-5 years.
In terms of change from last year, Delhi/ NCR saw the most change from 2016. There has been a significant increase in the demand for 2-7 years of experience level in Delhi/ NCR whereas the demand for less than two years experience shrank.
Pune also saw a dip in demand for 0-2 years analytics professionals – from 42% of analytics openings in 2016 to 33% this year.
Analytics jobs across tools & skills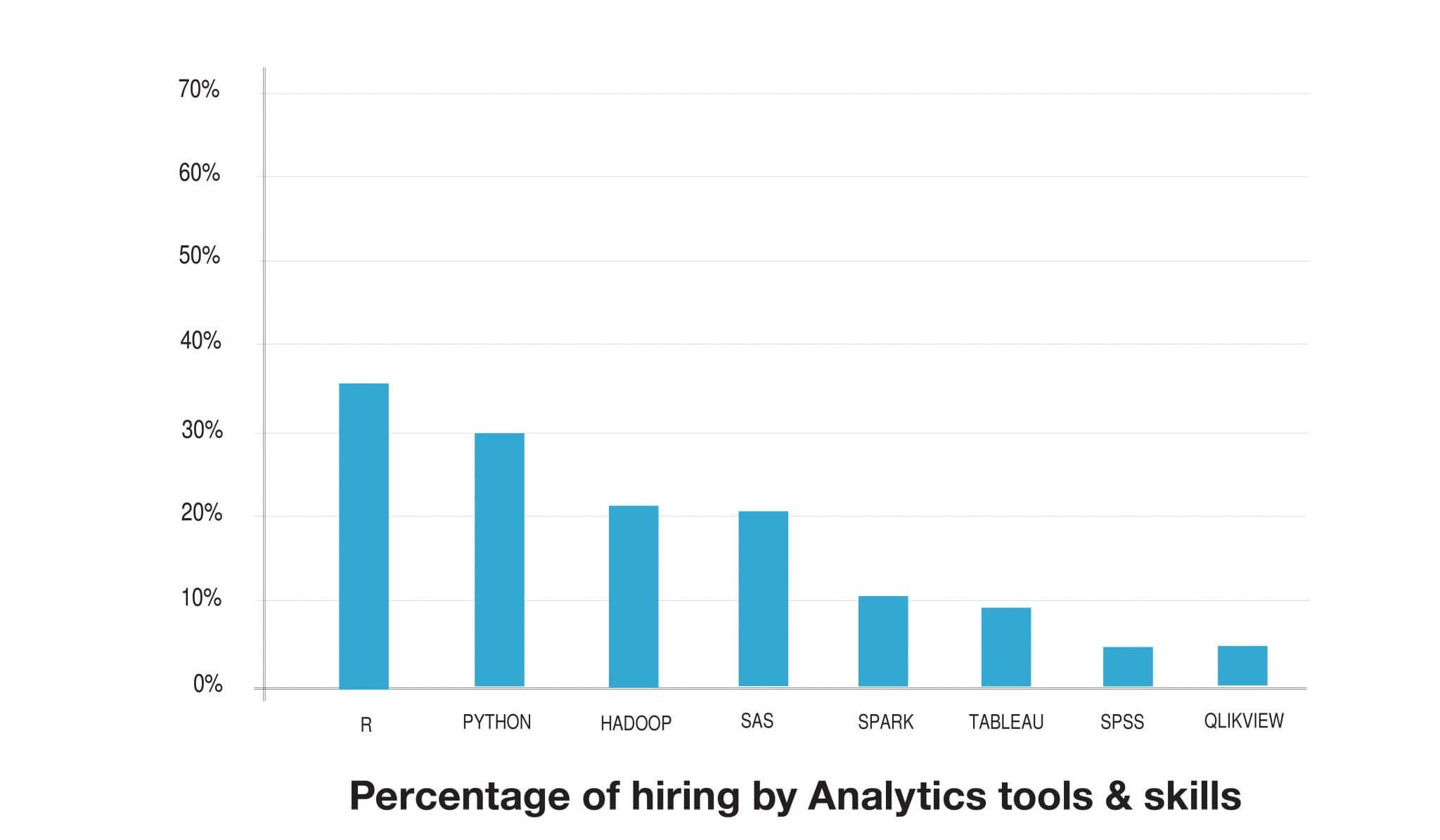 The demand for R professionals is the highest among all analytics recruiters. Almost 36% of all advertised analytics jobs in India demand for R as a core skill.
Python skills comes second at 30% of all analytics jobs looking for Python professionals. Among statistical tools, open source programming tools have picked up the most in recent years.
Among visualization tools, Tableau skills are most in demand with 9% of analytics jobs looking for Tableau professionals.
Analytics jobs by salaries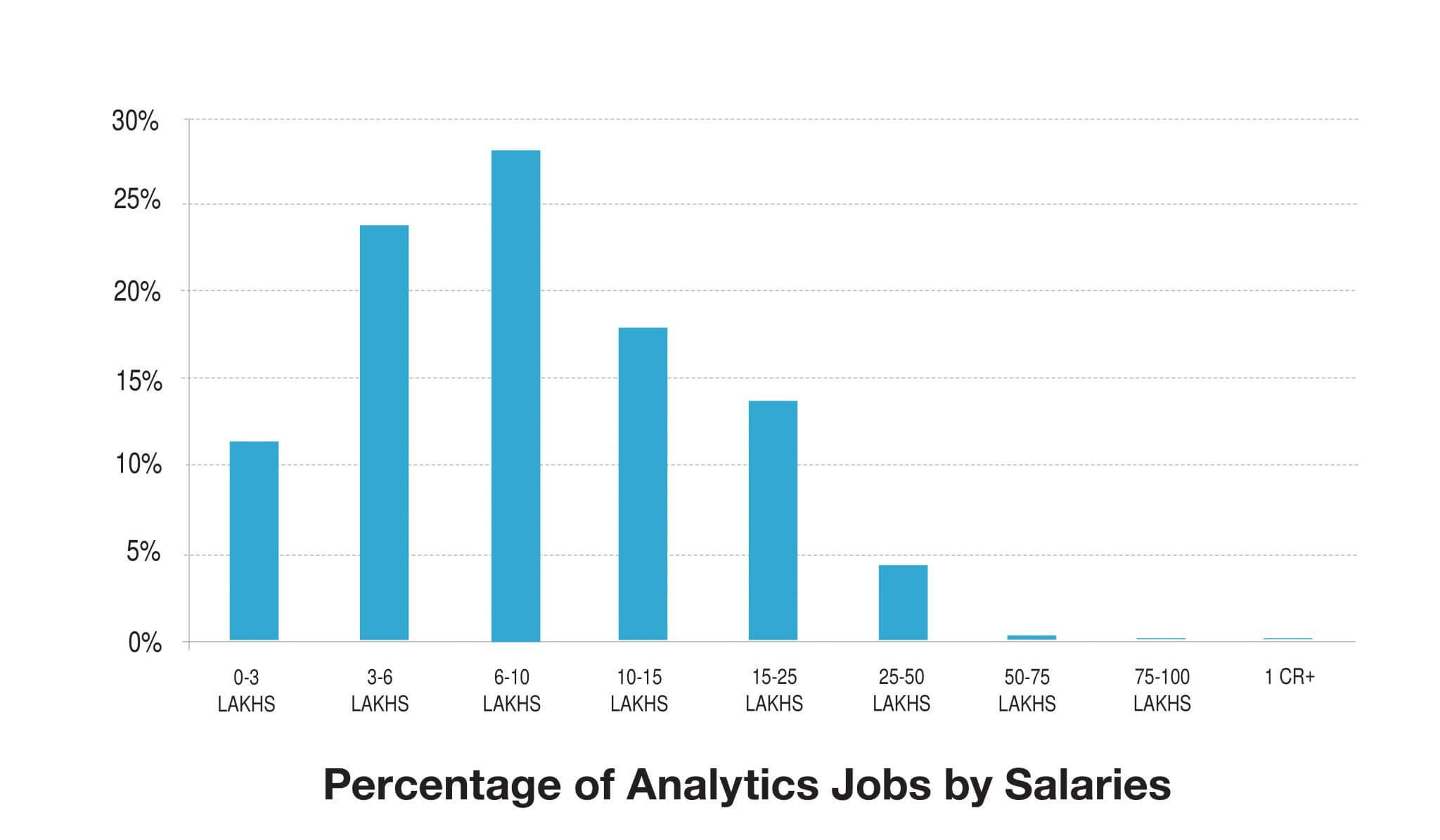 The median salaries being offered by advertised analytics jobs in India is INR 5 Lakh/ annum.
Advertised salaries tend to be lower than actual salaries. We have earlier reported the median salaries of analytics professionals in India to be 7 Lakh.
28% of all analytics jobs offer a salary range of 6 to 10 Lakh, followed by 24%for 3-6 Lakh.
Almost 40%of all advertised analytics jobs in India are offering a salary of more than 10 Lakh
Analytics jobs across company type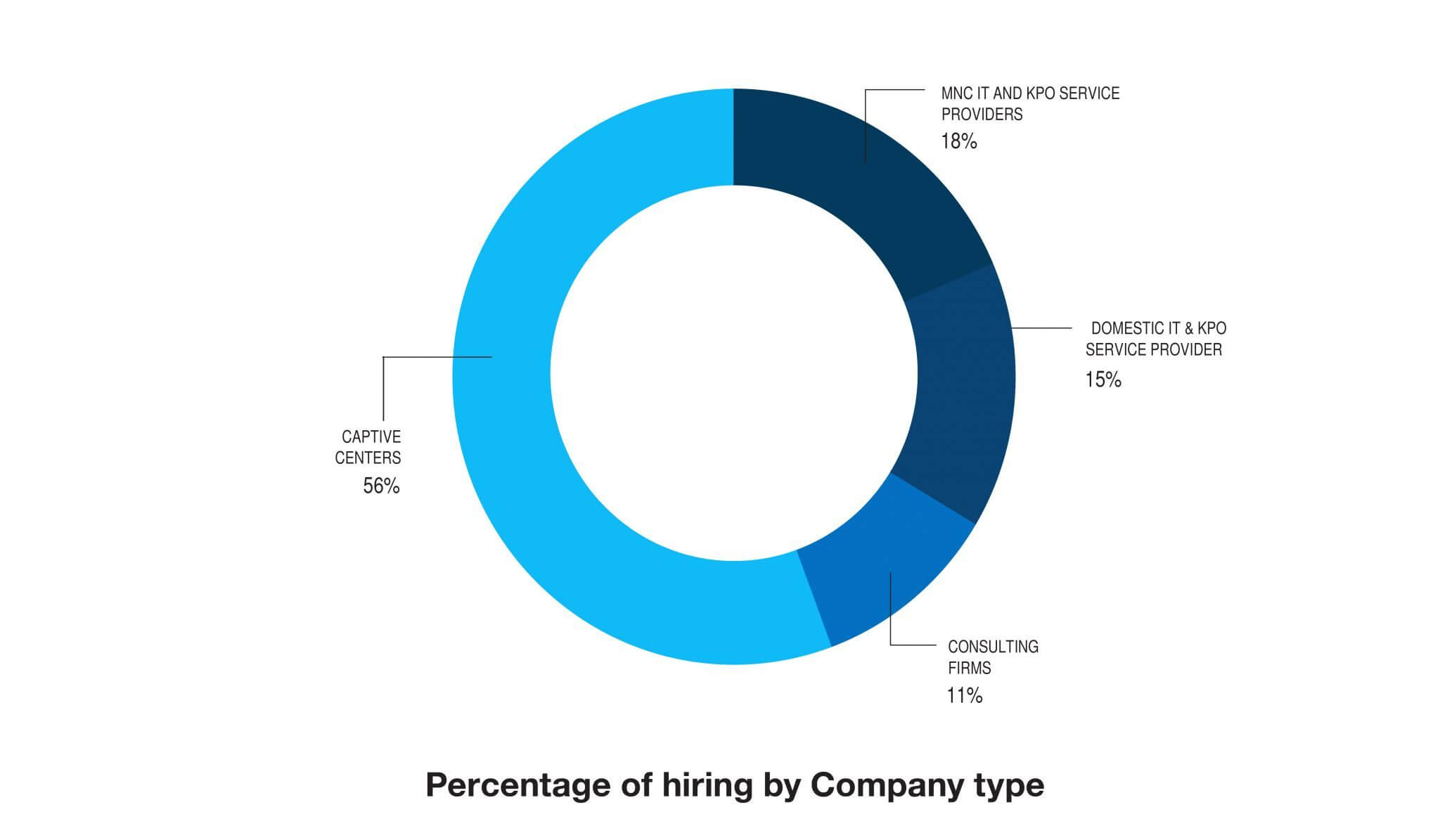 Captive centers/ GIC's/ Back office have seen the highest growth in terms of analytics in last few years. Almost 56%of all analytics demand is with Captive centers in India. These are organizations that mostly utilize analytics for internal consumption (for primarily their global businesses).
MNC IT & KPO service providers follow next with 18%of all analytics jobs advertised this year. Domestic IT & KPO service providers and consulting firms follow at 15% & 11%
Conclusion
India is witnessing a positive trend in terms of analytics and data science hiring. The fact that the number of analytics jobs has almost doubled from April 2016 to April 2017, is indicative of this. Another interesting observation about the analytics hiring scenario is that there are close to 50,000 positions in this field that are in need of skilled analytics professionals. This is great news for newcomers as out of the total number of openings, though 39% of analytics and data science job positions are for professionals with around 5 years job experience, a good 17% of companies are looking for freshers. Overall, it paints a constructive picture of analytics and data science jobs in India this year, for both, freshers as well as working professionals who are looking to make a shift into the analytics industry. You can download the entire report from the link below:
Analytics and Data Science India Jobs Study 2017 -Edvancer & AIM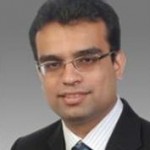 Latest posts by Edvancer Support (see all)
Share this on




Follow us on