Change is inevitable and it seems as if this change is only positive for the Analytics jobs scenario in India. New tech concepts such as analytics, big data, data science, artificial intelligence and machine learning (to name a few) are some of the key tools which companies are looking for in professionals that they want to hire. While there may be a huge variation in the skills sets, experience and education requirement for these professionals across various cities and industries, the demand for analytics professionals just  keeps on increasing with new job openings being posted each day.
This year's Analytics And Data Science Jobs Study was conducted in association with
Analytics India Magazine
, India's number one online magazine in the areas of analytics, big data and Artificial Intelligence.
Read our last year's study here.
The study incorporates diverse aspects of the job scenario for analytics professionals of the Indian sub-continent across industries such as e commerce, telecom and retail along with a few more. Various hiring trends such as job profiles, company types, required experience, educational background, etc. have also been factored in the study.
Top Trends In Analytics jobs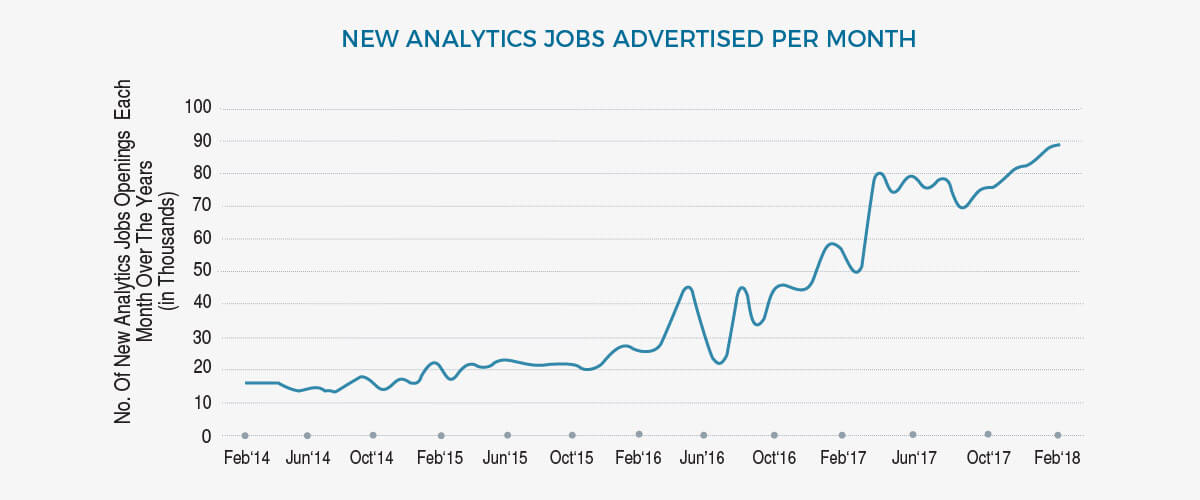 The number of new analytics jobs posted per month saw a rise of approximately 76% from April 2017 to April 2018.
The number of new analytics jobs rose by 52% from April 2015 to April 2016, and by 40% from April 2014 to April 2015. In a span of only one year, from April 2016 to April 2017, the number had become almost twice of what it was.
With the exception of a brief dip in the availability of jobs from August to September 2017, the number of analytics jobs advertised have been on a constant rise.
While, ascertaining the exact number of open analytics job openings is difficult; according to our estimates, approximately 78,000 positions related to analytics are currently available in India. New jobs posted per month and open analytics jobs is a different metric though.
This is almost a 57% leap in the open job requirements, compared to the situation of  a year ago.
Although India contributes 10% of job openings currently, compared to worldwide estimates, growth in India of data science jobs was lower.
Last year India contributed 12% of worldwide open job requirements which decreased to 10% this year.
JPMorgan, Accenture, Microsoft, Adobe, Flipkart, AIG, Ernst & Young, Wipro, Vodafone & Deloitte are the top 10 organisations with analytics openings this year
Apart from 2% of the analytics jobs advertised in India which are part-time, internships or contractual jobs, the remaining 98% are on a full-time basis.
Top designations advertised are: Analytics Manager, Business Analyst, Research Analyst, Data Analyst, SAS Analyst, Analytics Consultant & Statistical Analyst, Data Scientist.
Analytics Jobs By Cities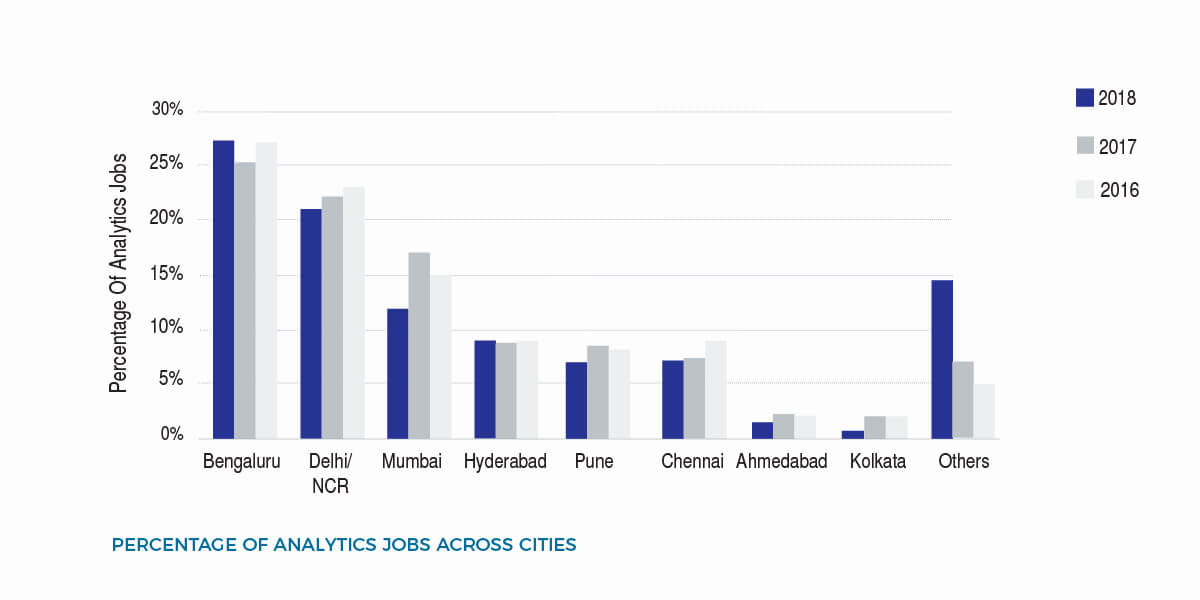 If we go city-wise, Bengaluru accounts for around 27% of analytics jobs in India. This is an improvement from 25% a year ago.
In second place, we have Delhi/NCR contributing 21% analytics jobs in India, down just a bit from 22% a year ago.
Compared to 17% last year, the percentage of analytics jobs from Mumbai has gone down to nearly 12%.
Due to the increased number of start-ups operating in Tier 2 cities, the contribution of Tier-B cities in analytics jobs continues to increase this year, from 5% in 2016 to 7% in 2017 to 14% this year.
Analytics Jobs By Industry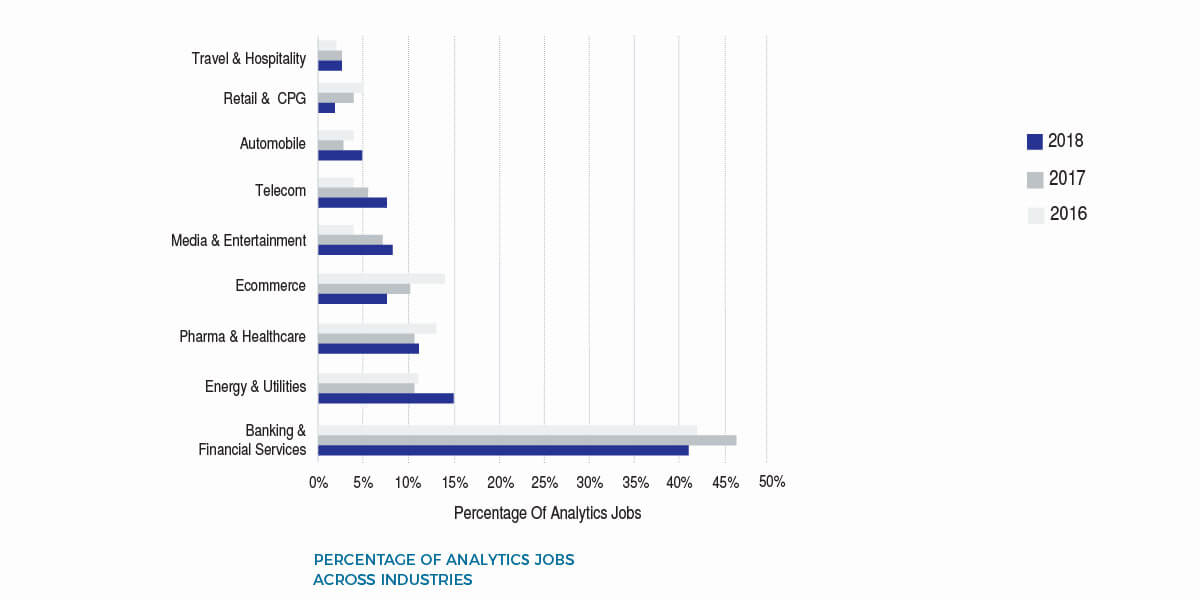 Although a decrease from 46% a year ago, 41% of all jobs posted for analytics were from the banking sector, thus continuing the reign of banking and financial sector over the analytics job market.
E-commerce continues to dip in terms of analytics jobs this year. Compared to 14% in 2016 and 10% in 2017, only 8% of analytics jobs were in e commerce.
Energy & utilities sector seems to have the highest uptake in analytics jobs this year, contributing to 15% of all analytics jobs as opposed to 11% a year ago. The sector has traditionally been a late adopter of analytics.
Education Requirement by analytics jobs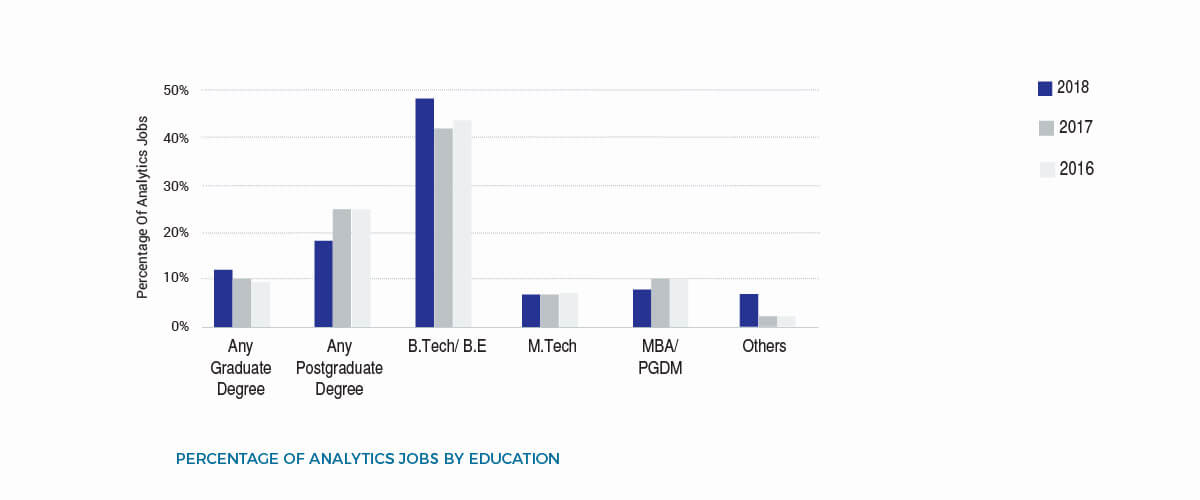 People with a B.E/B.Tech graduate degree comprise almost 48% of analytics job openings in the incumbent.
Around 18% analytics job openings are looking for a postgraduate degree other than MBA or M.Tech. This is a decrease from 26% a year ago.
8% analytics jobs specifically require an MBA/PGDM degree.
Compared to a measly 10% from last year, almost 13% recruiters are looking specifically for graduates with a non B.E/ non B.Tech degree.
Experience Requirement By Analytics Jobs
Approximately 62% of analytics requirements are looking for candidates with no more than 5 years of experience.
17% analytics jobs are for candidates with zero work experience.
38% analytics job openings are for professionals with at least 5 years of job experience.
Analytics Jobs Across Tools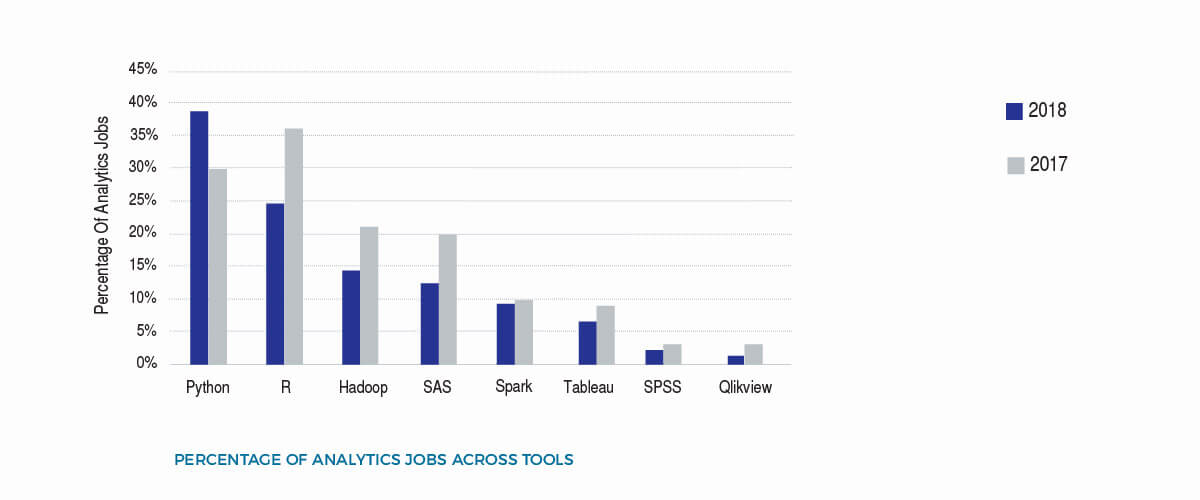 Nowadays, rather than basing their recruitment on technology or tools, recruiters are basing it on skills. More broadly, there has been significant decrease in the jobs advertised for a specific tool.
Analytics recruiters are coming to the conclusion that unlike IT, analytics requires a combination of various skills, and tools are just one aspect of it.
Among all analytics recruiters, the demand for Python professionals is the highest. Almost 39% of all advertised analytics jobs in India demand for Python as a core skill.
Python also saw the biggest leap in analytics requirements this year, replacing R as the most sought after analytics tool.
25% of all analytics jobs are looking for professionals skilled in R, making it the second most popular data analytics skill. This is decrease from last year of 36%.
Tableau skills are most in-demand among visualisation tools.
Analytics Jobs By Salaries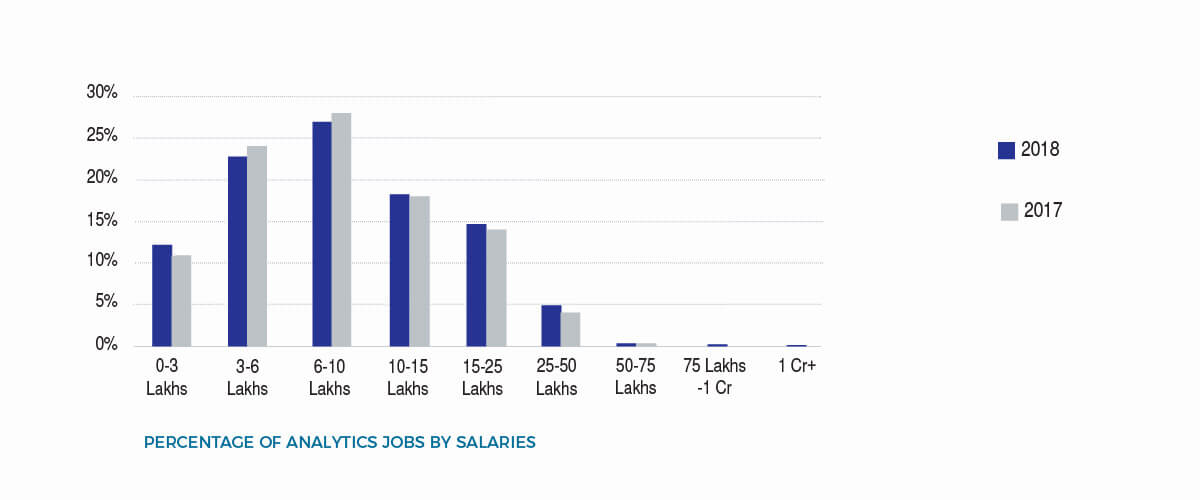 The average salary being offered by advertised analytics jobs in India is INR 10.8 Lakh per annum.
Advertised salaries usually don't match the actual salaries. Our previous report stated the median salary of analytics professionals in India was INR 12.7 Lakh.
27% of all analytics jobs offer a salary range of 6-10 Lakh, followed by 23% for 3-6 Lakh.
Approximately 38% of all advertised analytics jobs in India offer a salary greater than 10 Lakh.
Analytics Jobs Across Company Type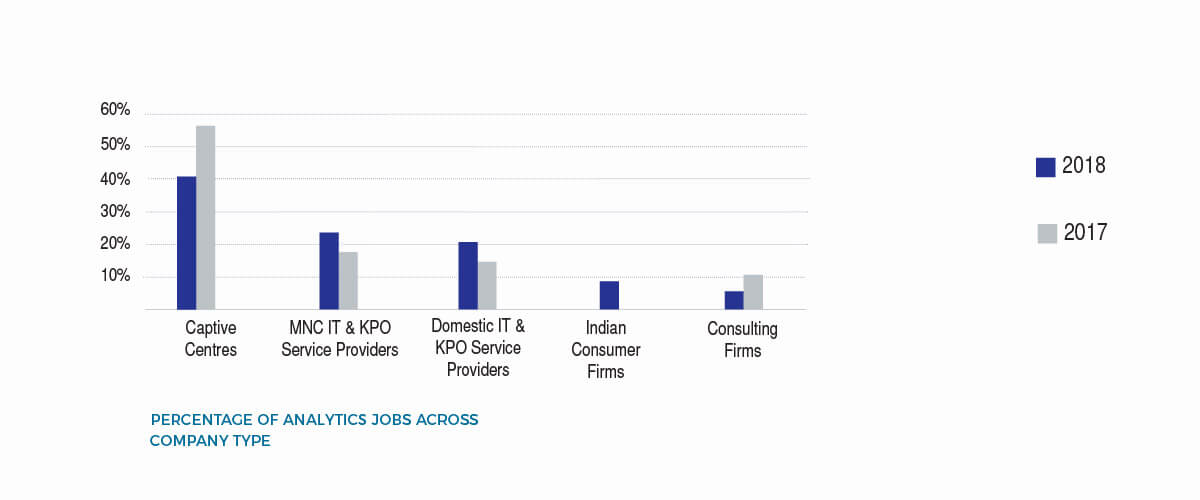 Almost 41% of all analytics demand is with organisations that mostly utilise analytics for internal consumption (for primarily their global businesses) such as Captive centres /GIC's in India.
Compared to the 56% a year ago, this is a downgrade.
Domestic and MNC service providers saw an uptick in the analytics jobs requirements this year.
MNC IT & KPO service providers advertise almost 24% of all analytics jobs, up from 18% a year ago.
21% of all analytics jobs advertised are by Domestic IT & KPO service providers, compared to 15% a year ago.
Companies that require analytics for internal consumption are responsible for 9% of analytics jobs advertised. This is a very healthy number signifying growing adoption of analytics and data science with Indian organisations.
You can download the entire report from the link below:
Analytics and Data Science India Jobs Study 2018 -Edvancer & AIM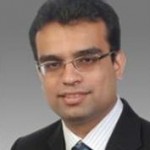 Latest posts by Edvancer Support (see all)
Share this on




Follow us on